The NOC of Ukraine supports IJF Academy
Aug 17 2017
The President of the NOC of Ukraine Mr. Sergey Bubka supports the initiative of the Ukrainian Judo Federation regarding the opening of the Ukrainian course of the International Judo Academy. This project will provide substantial assistance in raising the professional level of coaches, which will positively affect the development of judo in Ukraine.
More than 80 students from all over Ukraine have already entered the first semester. More than 1,400 Judoka around the world have registered in the IJF Academy, second semester of this year. The Ukrainian project became possible thanks to the interaction and support of the International Judo Federation Academy, the National Olympic Committee of Ukraine, the UkrainianJudo Federation.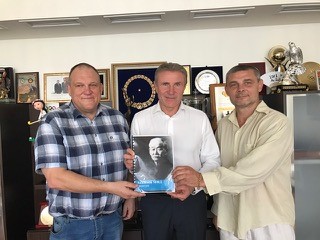 In the photo: Mr. Oleksandr Nagibin ,Project Manager, UJF Vice President , Mr.Sergey Bubka ,President of the NOC of Ukraine ,Olympic Champion, Mr.Vyacheslav Oleynik, Vice President of the Ukrainian Academy of Sport,Olympic Champion.
IJF Academy